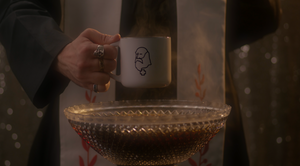 Sacred coffee brewing tips
STORAGE: First and foremost, you need a sacristy. Or, you know, a regular kitchen cabinet. Store your sacred coffee in a cool, dry place, away from sunlight. Once the coffee bag is open, keep it as sealed and airtight as possible. Coffee de-gasses and loses its divine freshness around 30-60 days after opening, so don't save it for Sunday morning worship only!
GRINDER: A good grinder makes all the difference. Burr grinders will be the most consistent in grind particle size, but if you got a classic ol' spice blade type grinder, work with what ya got!
WATER: Clean water is crucial! Purified, spring, etc.. anything but tap, as those delicious flavors will get muted. If you're using a pour-over, ensure you use hot water between 195-200°F. If you don't have a thermometer, set your water to a near-boil, then wait for the rolling bubbles to settle (about 30 seconds).
BREWING: Use a ratio between 16:1 and 18:1 (water to coffee). If you do not have a scale to be precise with grams (contrary to our prodigal ways in the U.S.) then use 2 level TBSP to every 6 fl oz of water.
Suggested Brewing videos from holy coffee saints
These are a few of our suggested brewing guides by folks we regard highly in the industry. We recommend you go give them a follow if you want to take your coffee skills to the next level!
Drip Machine
James Hoffmann, Coffee saint, gives a full explanation of how to brew good coffee on that home drip machine of yours.
French press
The European Coffee Trip team joined Barista Champion Gwilym Davies on how to make a great French Press.
V60
Another video of James Hoffmann where he teaches us the ultimate method for brewing with a V60 manual pour over.
CHEMEX
Lance Hedrick walks you through some solid tips and tricks to ensure it's the best possible brew from this classic device.
Coming soon
More in-depth devotions coming your way soon. Stay tuned!