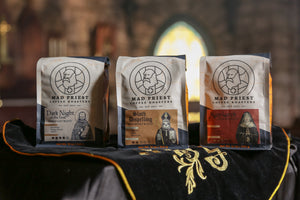 Fresh roasted coffee to your door. Your time frame. Your choice.
Expert & Innovative Roasters
We are SCA Certified Roasters, Golden Bean winners & Good Food Award winners. We apply innovation alongside industry standards and constant continued education to perfect our craft.
Only Specialty Grade Coffee
We only buy high grade specialty coffee from Specialty Importers. We pay significantly above the C market price and develop long term relationships with the producers of our coffees by visiting them at the farm level.
Curiosity, Education & Evolution
We are always seeking to perfect our craft through education. Our team of skilled coffee gurus have multiple industry certifications and have served on several International Juries for ACE auctions.
100% MONEY BACK GUARANTEE
HOLY GRAIL GUARANTEE
Do yourself a favor and get a subscription. You won't regret it. "Just Do It" (as the check mark gods say). Stop looking for the grail in all the wrong places. We've found it for you and want to share it with you. If you're going to drink coffee, why not make sure it's good coffee? Your guardian angel will thank you. But for real, if you aren't happy with your coffee, we will give you a 100% refund.